Sludge videos are designed to make you keep watching: They feature a split screen pairing new content with unrelated videos of soothing visuals like someone playing with kinetic sand. Here are some suggestions on how create these videos and use them for your brand.
Originating somewhere in the depths of TikTok, sludge content provides a low stress fallback for your brain and eyes while consuming other content.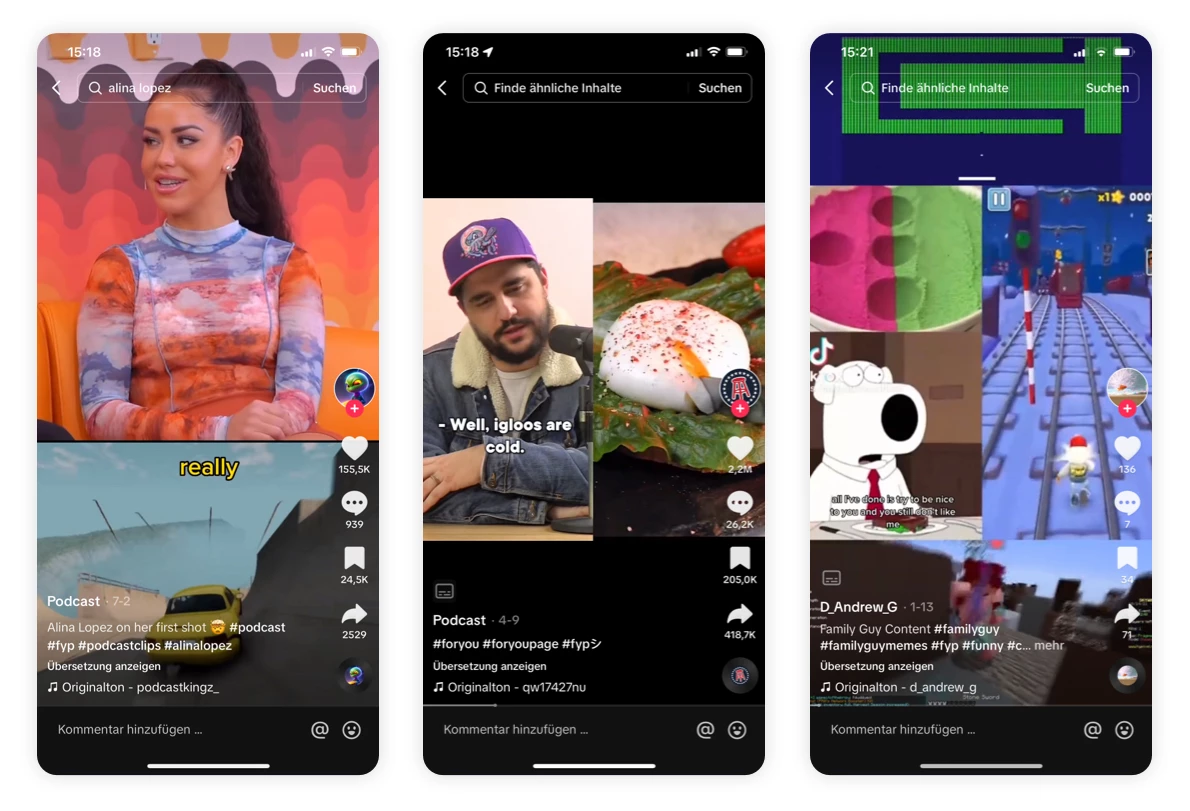 People keep watching the split screen videos – maybe to catch a mental break? We don't know, but we have caught ourselves doing so repeatedly. Personally, we find it easier to focus on what is being said in the main video while watching the oddly satisfying clips.
Others seem to feel the same, so why not?
How you can use sludge content for your brand
At it's heart, creating sludge content means content repurposing / remixing. We like that! Also it's fun and grabs attention. The longer retention time of these videos gets rewarded by the algorithm and they often get a lot of views.
We think it could be an opportunity for brands and product companies. You could use it to:
Promote highlight clips from your podcast, webinars or interviews
Repost older videos with a new twist
Make videos with educational content more sticky and easier to consume
It's probably advisable not to take this technique or type of content too seriously. It should not be a way to manipulate people into watching your content, but it can be a nice way to get views and tap into a current hype.
What kind of clips should I pair my content with?
Usually, the videos used for these content collages fall under these categories:
Assembling: Closeups of people baking, building legos, sewing, painting, crafting..
Destroying: Closeups of people or machines cutting, squishing, crumpling,.. things
Playing: Gameplay videos from (mobile) games like Subway Surfers, Slice it all, Tower Bash, Fall Guys
Where to get those oddly satisfying video clips?
Content creators often pair their content with existing clips from YouTube for their sludge content. While remixing like this is super common and not that problematic for a private account, it could certainly be a copyright issue for company accounts and brands.
If you want to be on the cautious side regarding copyright, you have the following options:
Find stock videos: It's definitely possible to find stock videos with closeups of someone kneading slime, assembling a cake or a hydraulic press squishing tennis balls. You can search on free stock video platforms like Pexels, or pay for footage on platforms like Shutterstock
Create your own oddly satisfying content: This is an option especially if you want to create gameplay videos. On iOS you can create screen captures even without needing an extra app to record yourself playing any game you like. It actually doesn't matter if you score well or achieve anything – just enjoy your gaming break!
How to create your own sludge content?
There are a lot of great apps and tools to create TikTok videos. CapCut is a popular video editor offering TikTok templates, or you can look into Kapwing or Canva.
The layout of a sludge video is not really complicated to create. It's usually some variation of a split screen. Sometimes one or more videos are just layered above each other in a more chaotic way.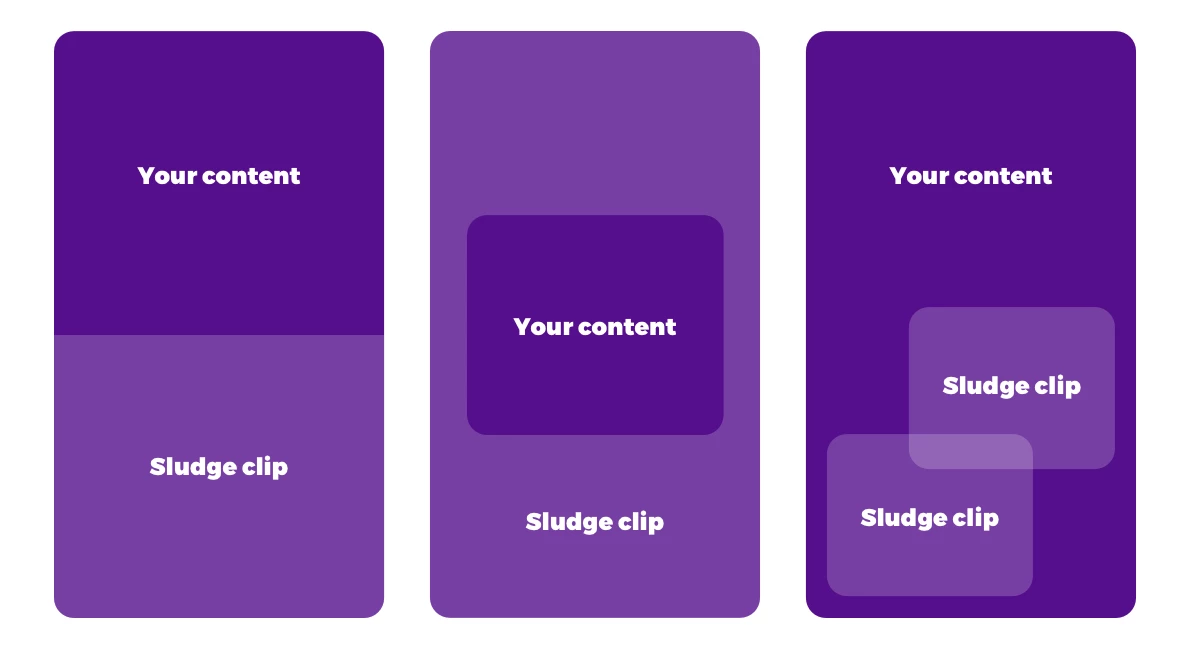 Stitch together your content with your satisfying ASMR or video game clip, download and post.
Automate the production of sludge videos
If you want to scale the process and remove some of the manual work, we offer a solution to automatically create sludge content and other videos: Placid is a creative automation toolkit that uses templates to quickly generate videos by replacing the content of dynamic layers.
Sludge content studio
You could set up a form where you can just upload your clips and download your generated sludge content in your favourite layout ...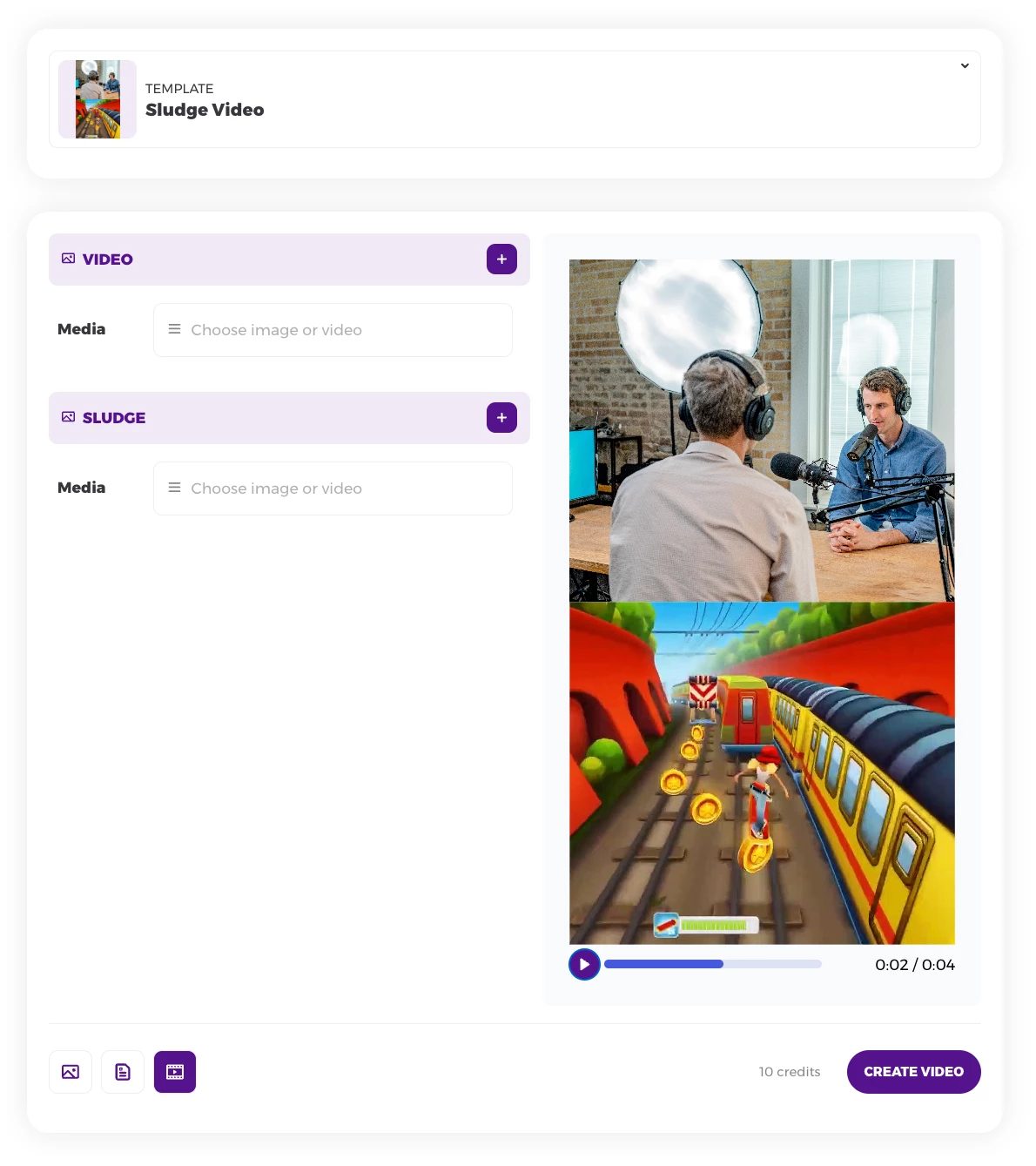 Automation via API or nocode tools
... or set up an automated workflow via our API or nocode integrations for Zapier, Make & others if you want to quickly generate a bunch of videos.
{
    "clips": [
        {
            "template_uuid": "er4y9mna1",
            "layers": {
                "content": {
                    "media": "content-clip.mp4"
                },
                "sludge clip": {
                    "media": "sludge-clip.mp4"
                }
            }
        }
    ]
}
This saves you some hours you could use to watch some more ASMR videos yourself or take a screen break if sludge content made you question our society's sanity ✌️