Pinterest is a great platform to continuously drive traffic to your posts and products.
If you pin consistently, all of your content on Pinterest will continue to grow over time. It's an awesome source of long-term, sustainable growth. Pinterest is rewarding consistency by distributing your content more often.
So, to be successful on Pinterest, you need to dedicate time to it. But you can use automation to assist you, or even completely do the work for you. If you're a bit code-savvy, you can automate 100% – but even if you can't code, you can let tools do a lot of your work.
We'll show you how to work smarter, not harder at growing your content business with Pinterest in this post!
Automatically create Pinterest images with Placid
To create Pinterest images for their content, many bloggers and businesses use tools like Canva – an online design tool – or just Photoshop templates.
While this is a good workflow, it still takes a lot of time to create all those assets for new pieces of content. We asked ourselves how we could optimize that. We created Placid as a solution that automates the creation of images for Pinterest (and also other share images).
With Placid, you can create templates for your pins by either choosing from preset designs or designing your own. You can add your logo, a post title, images and graphical elements.

Placid can then automatically create Pinterest images for your new content based on those templates. Currently, you can use our WordPress plugin to do that, or you use our API if you have some dev skills!
It can for example automatically take your WordPress posts' titles and featured images to fill the template.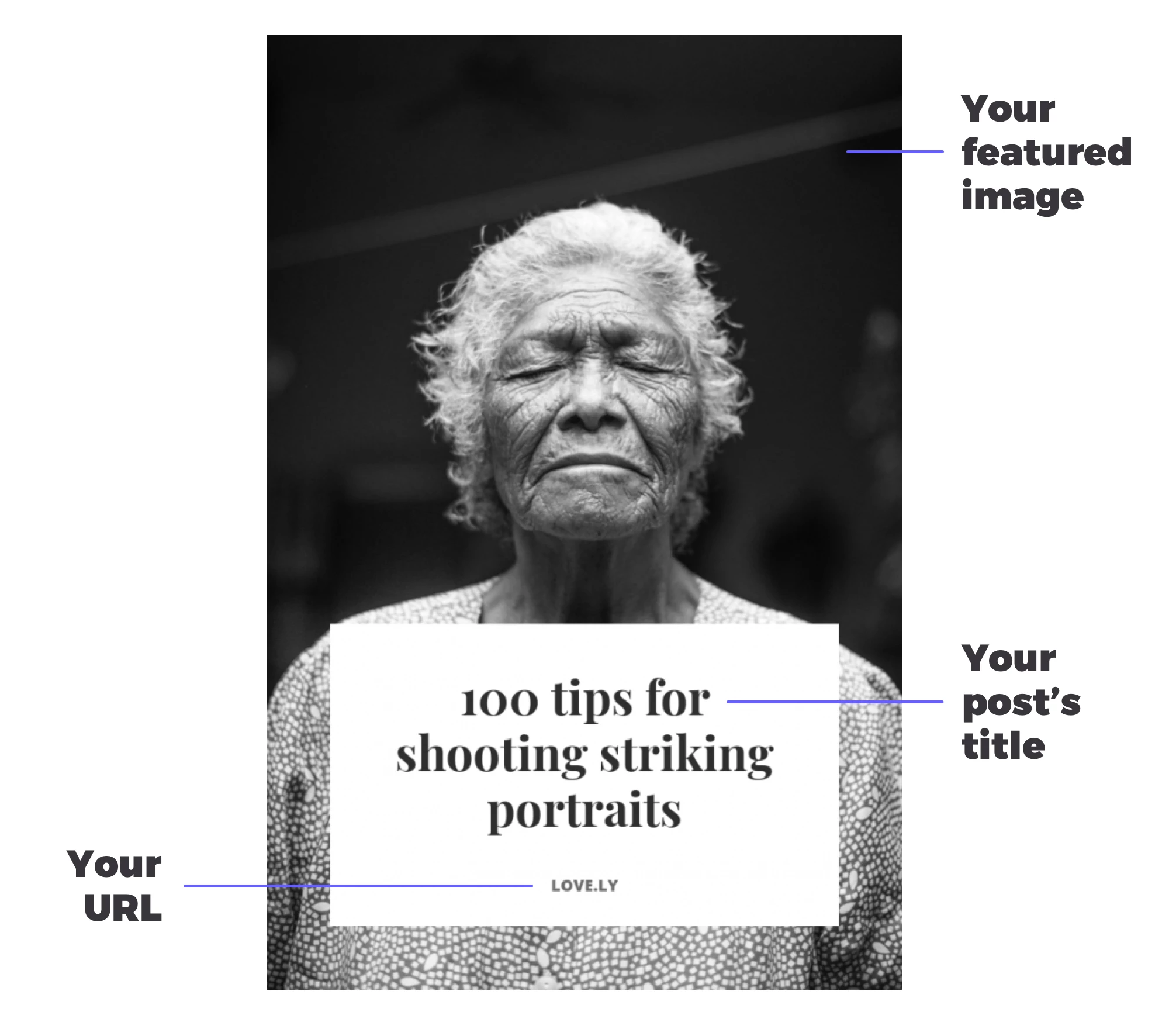 Generate multiple pins for your content
Our customer Pat from starterstory.com uses Placid to create multiple pins from his content. He varies the template, color and text: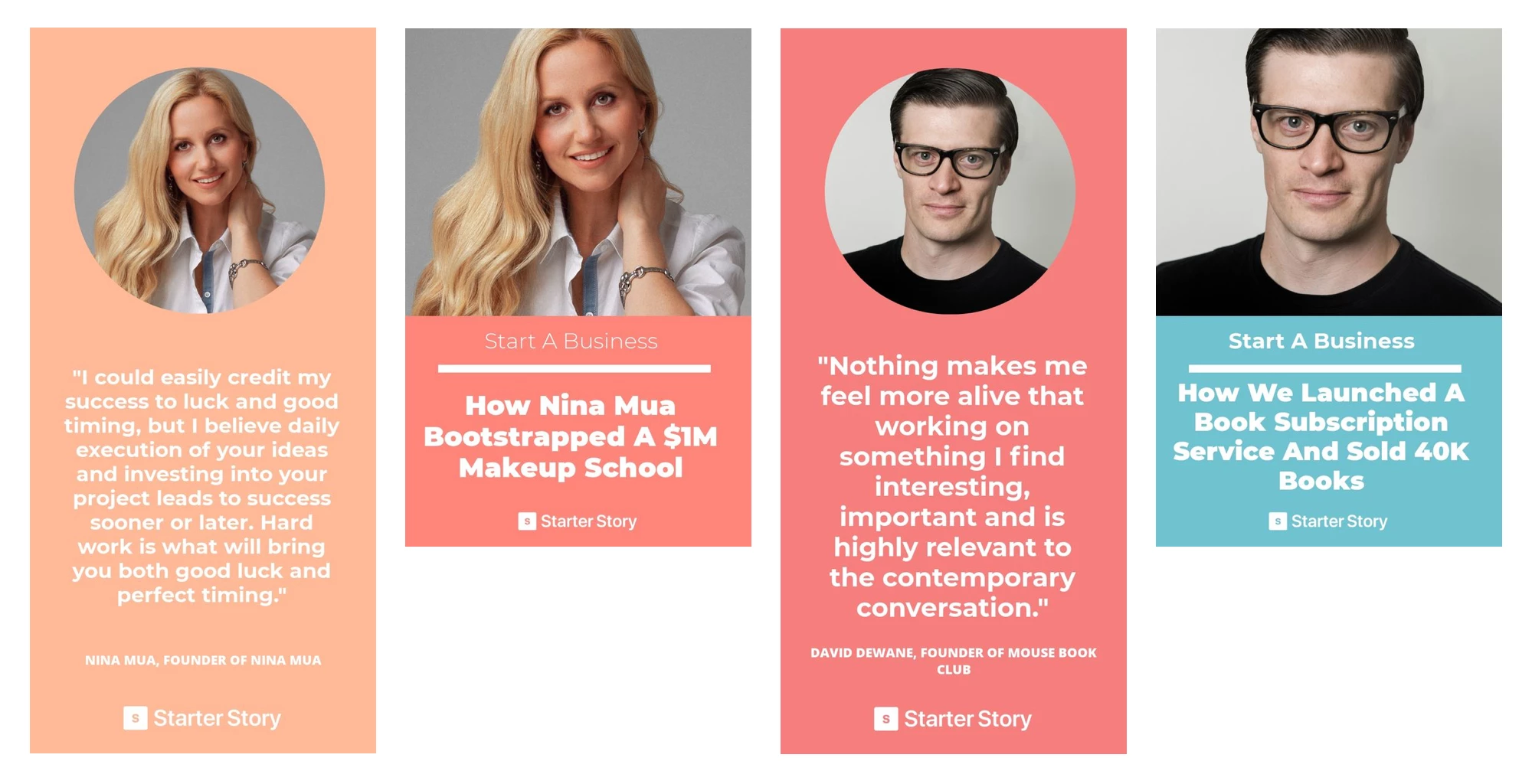 This is a great strategy to constantly create new and engaging content. Even Pinterest recommends to pin a variety of images for your content that appeal to different types of pinners.
If you can't code: Use Tailwind to schedule consistent postings
Tailwind is a scheduling tool that helps you to post your pins consistently.
You can add your pins to a queue, and Tailwind will automatically post and repost content from it. It loops your pins and never runs out of content to post like other scheduling tools. Tailwind will also choose the best posting times for your topic and niche to optimize reach and engagement.
It will save you a lot of time and boost your Pinterest productivity.
The benefits at a glance:
Tailwind loops your queue, so they never run out of pins to post for you
It pins at the best time to maximize reach and engagement
It times your posts so that they don't appear spammy or annoying
You get performance reports of all your pins
Alternative for Developers: Use an API to post automatically
If you want to 100% automate your Pinterest account, you can also use the API of a scheduling service to post the images you created with Placid.
We use the Buffer API, but if you don't have an account older than October 2019 with them, you won't have access to it any more. You can also look into the Hootsuite REST API or into automating workflows with Zapier or Parabola. We also offer a Placid integration for Zapier!
Can I just set-it-and-forget-it?
Yes and no. While these tools do the majority of routine work for you, there are some things that you should keep doing instead of just forgetting about Pinterest altogether.
Review your pin's performance and adapt your queue.
Try writing new descriptions, or using new hashtags for your posts once in a while. Monitor what works and what doesn't.
Keep creating new content and not just repost older pins again and again.
Organize your queues into "Evergreen" and "Seasonal" content to optimize posting times.
Repin content of others related to your niche.
In Conclusion
This post showed you how you can automate two major parts of growing a great Pinterest account: Scheduling posts to pin consistently and creating images automatically.
If you set up your workflow with tools like Tailwind and Placid, you will get all the benefits of Pinterest, with almost none of the work. You can go even further with tools like Zapier, Parabola or hooking up scheduler APIs to post 100% automatically.
This lets you focus on working strategically, instead of investing hours of your time in routine tasks!